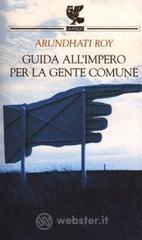 Year of first publication:
2002-2003
Genre:
non-fiction
Country:
the author is Indian, but the essays also deal with other countries such as Iraq, Afghanistan and Pakistan.
My review of The Ordinary Person's Guide to Empire has appeared in Italian on the cultural magazine Paper Street and it's available at
this link
. In order not to repeat myself, even if in another language, I will write more in general about the author and about a recent outcome of her political activism.
Arundhati Roy the cannibal, Arundhati Roy the hooligan. Some people hate her and some people love her. I'm among those who love her, even though I don't always agree with her. For example when,
in a recent article published in Outlook India
, she justified the Maoist rebels, a guerrilla group that is giving a lot of troubles to the Indian government. In my opinion, the problem is not whether or not these people are right (of course they're right in wanting their lands not to be exploited and expropriated), the problem is that they use violence and terrorism to do that. Has Roy forgotten the "
Gandhian
non-violent approach" that led her country to independence? Has she come to the conclusion that it's old fashioned and useless to fast and strike for your rights in times like these? Violence only lead to more violence; "an eye for an eye makes the whole world blind" Gandhi used to say. Moreover, all the guerrilla groups I can think of (the Colombian FARC or the Shan in Burma) started off as idealistic and ended up using illegal activities like drug smuggling to finance themselves, caring less and less about their original aims.
Apart from my personal disagreements with some of her opinions, what makes you admire this 48-year-old skinny Indian woman who wants to change the world is that she uses writing as a weapon. It's the passion that she puts in what she fights for and believes in that makes you read with trepidation every article that she writes, even if it's about something very distant from your everyday life as the tribal groups of India. And my admiration for her has not been touched by this unexpected outcome of her activism.
The Ordinary Person's Guide to the Empire is a collection of essays by Arundhati Roy written in 2002-2003 on the aftermath of 9/11. Far from sounding dated, the essays are about the relationship between the powerful and ordinary people, helpless and exploited by those who detain the power. Whether they are Talibans, a tribal group of India or American citizens, ordinary people are what matters for Roy and this is evident in her defence of the Maoist rebels, who are ordinary people deprived of their lands.
Now the Maoist rebels have asked Roy to mediate with the government.
Roy has of course rejected the offer, on the grounds that she is a writer and she doesn't have the skills of a mediator. She hopes for a ceasefire on both sides, instead. So does Arundhati Roy actually support the Maoist's means to get what they want in absence of alternative ways or does she only agree with the cause? Because it seemed to me that, at least from the article aforementioned, she was not only advocating their cause, but also justifying their acts of violence in name of "a greater good".