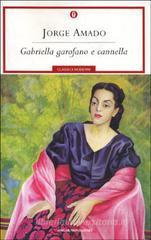 Genre: novel
Year of first publication: 1958
Country: Brazil
In italiano: "Gabriella Garofano e Cannella" di Jorge Amado, edito da Einaudi nella collana Super ET (1989,1991) € 13
On the author:
Jorge Amado was born in 1912 in Itabuna, in a region of Brazil called Bahia. He spent his childhood in the coastal town of Ilhéus and went to high school in the capital of the region, Salvador de Bahia. He started to write in literary magazines and published his first novel,
O País do Carnaval
, when he was 18 and his second novel
Cacau
came out straight after that. He had some problems because of his leftist activities and his novels where banned in Portugal, whereas he gained popularity in the rest of Europe. Because he was a communist, he went into exile twice, first in Argentina and then in Europe. He went back to Brazil in 1955 and abandoned his political activity. He wrote
Gabriela, Cravo e Canela
in 1958 and
Dona Flor e Seus Dois Maridos
in 1966. His work deals with the poor urban black and mulatto communities of Bahia and with the life in the areas of the cocoa trade. He is the best-known Brazilian modernist writer and possibly one of the most famous Brazilian writers ever.
Plot:
The book tells two separate but related tales: first, the romance between Nacib Saad, a respectable bar owner of Syrian origin, and Gabriela, an innocent and captivating migrant worker from the impoverished interior, and second, the political struggle between the old guard of landed Cacao growers, led by the Bastos clan, and the forces of modernization, in the person of Mundinho Falcao, a wealthy young man from São Paulo. It can be read simultaneously as an unusual, charming love story, a description of the political and social forces at work in 1920s Brazil, a somewhat satirical depiction of Latin American aspirations to "modernity," and a celebration of the local culture and pleasures of Bahia.
Some thoughts:
It is strange to think that this novel was first published in 1958: ten years before
Cien años de soledad
by García Márquez and more than twenty years before
La casa de los espíritus
by Isabel Allende. There are so many things that remind me of those writers: first of all Nacib, a Brazilian of Arabian origin, bears echos of a character in Allende's
Eva Luna
: Riad Halabi. Of course Riad is profoundly different from Nacib, Riad being a Turkish middle-aged man with a cleft palate and Nacib a young Brazilian of Syrian descent, but they're both from a part of the world which evokes tales of love, jealousy and lust – three things that feature in the two novels. In spite of this, the "lusty character" is sensual Gabriela, not the Arab Nacib. Another thing that reminds me of Allende's novels are the smells, the colours and the exotic landscape of the novel.
Gabriela Clove and Cinnamon
also reminds me of García Márquez for its many characters (too many in my opinion!) and the importance of politics, especially the opposition between conservative and progressive people, between the fazendeiros and those who are merely newcomers to the town. I must say that all the politics in the book didn't interest me that much: I was eager to read the pages concerning the love between Gabriela and Nacib. In fact, it was hard to follow the story of Mundinho Falcao and how Ilheus ended up being a modern town. Gabriela is only one of the many people who live in Ilhéus and not the most important characters in the novel (she comes in at page 100 I think), but she's the real strength of the novel, so I think that she should have had more space!
What emerges from this novel is the conflict between tradition and innovations, the struggles of a small coastal town to become a better place to live in, and the conflict between the bourgeoisie of Ilhéus, white and elegant but a bit uptight, and the freer nature of Gabriela, who comes from the sertão, a mostly desert area further inland. She is a very poor mulatto woman who arrives in Ilhéus all dirty and barefooted and is looking for a job. She doesn't even know what her surname is or how old she is, but she can cook and make love like no other woman in town. She sings and dances while she is doing the housework and this is one of the reasons why Nacib falls desperately in love with her. She is a free spirit, nonetheless. Even though she loves Nacib more than any other man in her life, she is unable to be faithful to him: she is not suited to be a gentleman's wife and even appreciates the attentions of other men. Nacib is of course very jealous of Gabriela's success with other men and this will lead to some problems in their relationship.
I can imagine that Amado's depiction of sex life in his town, Ilhéus, must have caused scandal among his people. I just discovered that the book was made into a movie starring Marcello Mastroianni as Nacib!
This writer has very good potential, especially regarding tales of desperate love and social inequalities in the land of cocoa trade, but I want to read at least
Dona Flor and Her Two Husbands
before giving a clear-cut judgement on his style and his skills as a storyteller.